Thank you for subscribing to the SGAmmo.com newsletter.
If you have trouble viewing this email you can see the newsletter at this URL address: http://www.sgammo.com/556mm-ar-15-ammo-sealed-battle-packs-9mm-fmj-target-ammunition-380-hollow-point-and-more

Below you will find a list of bulk ammo I have in-stock today that I thought were a good value or interesting. We also sell a lot of these items by the box if you do not need a full case or would prefer to mix an order up with a few different types of ammunition is smaller quantities. We have many other interesting types of ammo and other items of good value on our website so please take a few minutes and look over the online catalog at www.SGAmmo.com - Sam Gabbert - SGAmmo Owner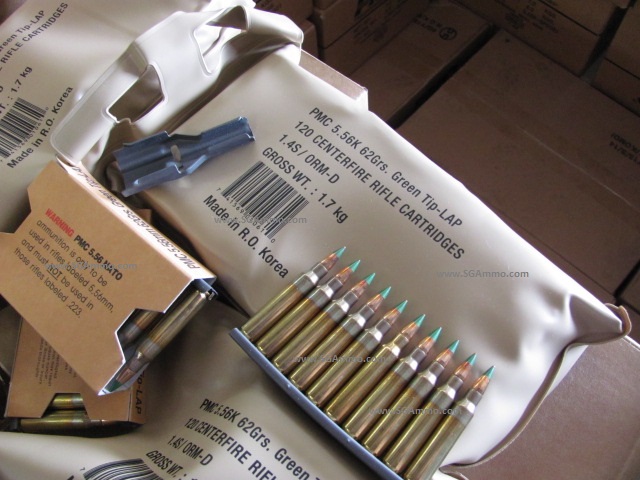 $214.95 + 14 shipping
600 round case of 5.56 NATO 62 Grain Green Tip LAP Ammunition by PMC on AR-15 Stripper Clips in Sealed Battle Packs item number 5.56KBP for sale at SGAmmo.com the best website for buying AR-15 ammo online with the lowest prices and fastest order processing and shipping. This 5.56x45 ammo is made on South Korea by PMC and is the perfect choice for shooting AR-15 rifles, bulk ammunition for long term storage, or just a good low cost ammo for stocking up on 5.56 NATO. This ammo comes in sealed PVC battle packs, 120 rounds per pack, 5 packs per case. The ammo is loaded on AR15 / M16 stripper clips with 20 rounds per box. The box is really more of a cardboard sleeve. See pictures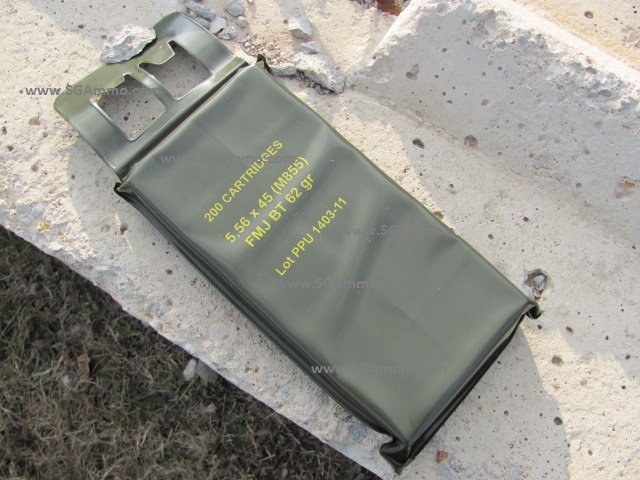 $349.50 + 16 shipping
1000 rd case of 5.56mm M855 62 grain Green Tip Prvi Partizan Ammo item number PP58 for sale at SGAmmo.com, packed 20 rounds per box, 10 boxes per sealed Green PVC Battlepack of 200 rounds, 5 packs per 1000 rounds per case. This is high quality brass case 5.56mm M855 ammo. Many people regard this ammo to be one of the best M855 loads offered in the US market. Made in Serbia, 2014 manufacture dates. This ammo comes in the military like battle-pack packaging that is great for long term storage of your ammo, or for easy transportation in the field. This ammo is limited in supply and not always an option in the retail market, do not miss out.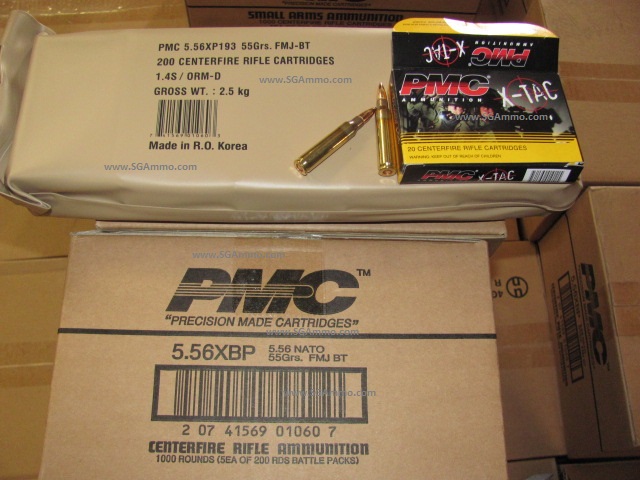 $329.50 + 16 shipping
1000 round case of 5.56x45 M193 FMJ 55 Grain PMC ammo in Battle Packs item # 556XBP for sale at SGAmmo.com, the best online source for low cost AR-15 ammunition sold at the lowest prices. This PMC 5.56 ammo is a high quality M193 ammo in sealed PVC battle packs for long terms storage or the toughest field conditions. Battle packs keep your ammo dry and sure-fire even when it is in a damp and wet environment. This is the perfect ammo for long terms storage and available at a low price that makes buying high quality ammo affordable.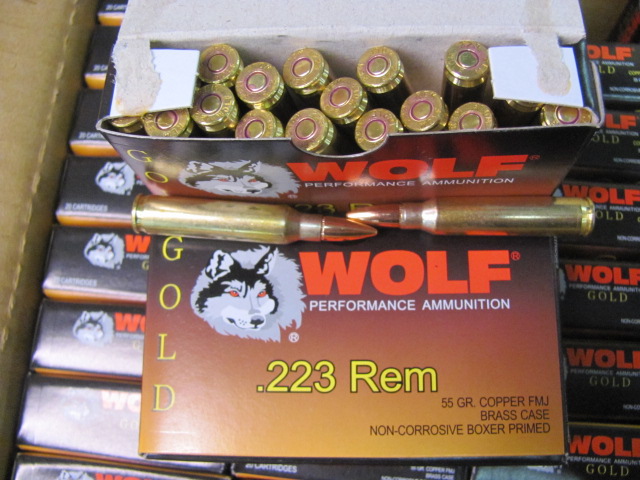 $279.50 + 16 shipping
This 223 Rem Wolf Branded ammo is high quality brass case ammo made in Taiwan and offers smooth function, reliability and very good accuracy in semi-auto rifles. Featuring reloadable brass cases, sealed boxer primers, non-corrosive, non-magnetic 55 grain bullet. A great value for this type of ammo in today's market at a price that's so low its affordable to shoot or just stocking up. Ideal ammunition for use in AR-15 rifles with the application of target practice, range use, all purpose ammo, etc. Buy Wolf ammunition with confidence, Wolf ammo is backed by the importer with a 100% satisfaction guarantee, if you are not happy with the products performance Wolf will buy it back for a full refund.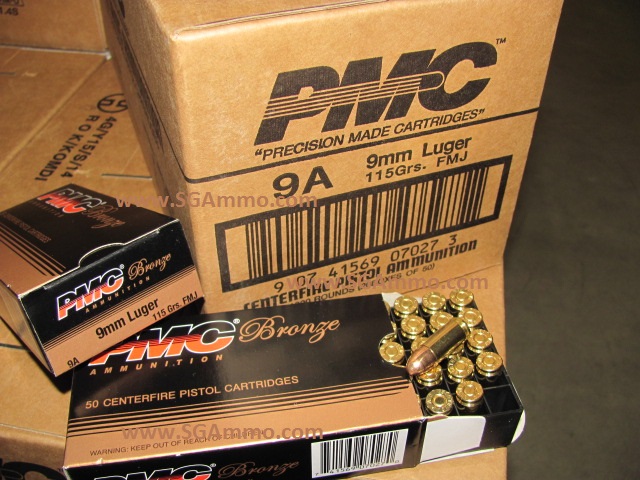 $219.80 + 16 shipping
50 rounds per box, 20 boxes per case 9mm Luger PMC brass case, boxer primed ammo with a range-safe non-magnetic 115 grain FMJ bullet. This is one of the best values for high quality target / range ammunition for sale in the US market. All PMC cartridges pass rigorous inspection at PMC's electronic powder-check station, which instantly and accurately measures the propellant charge in each round. If the propellant in any cartridge varies by as little as two-tenths of one grain, the system stops, and the cartridge is discarded. No other ammunition manufacturer can assure greater uniformity and reliability than PMC. PMC Full Metal Jacket cartridges incorporate a lead core bullet enclosed in a heavy copper topcoat, resulting in little to no expansion and deeper penetration of the bullet. PMC-FMJ provides smooth, reliable feeding in all types of semi-auto handguns. This is ideal ammo for all purpose training and target practice available at a low price.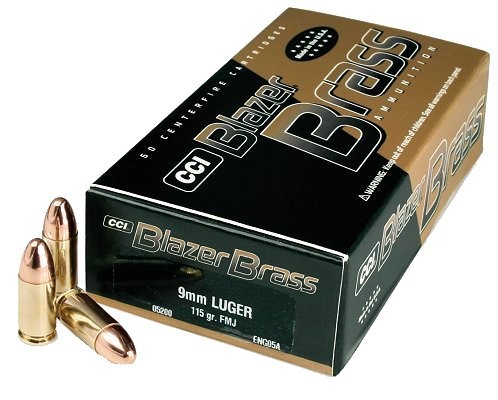 $225.00 + 16 shipping
1000 rd case, 20 x50 round boxes 9mm CCI Blazer Brass 115 grain FMJ ammo 5200. Brass case reloadable, American made target ammo.
$239.80 + 16 shipping
50 rounds per box, 20 boxes per case. 9mm Speer Lawman 124 grain TMJ Ammo 53651, Brass case, boxer primer, premium target ammo for sale online at SGAmmo.com
$195.00 + 16 shipping
This is non-corrosive commercial ammo made in Lugansk Ukraine by LCW.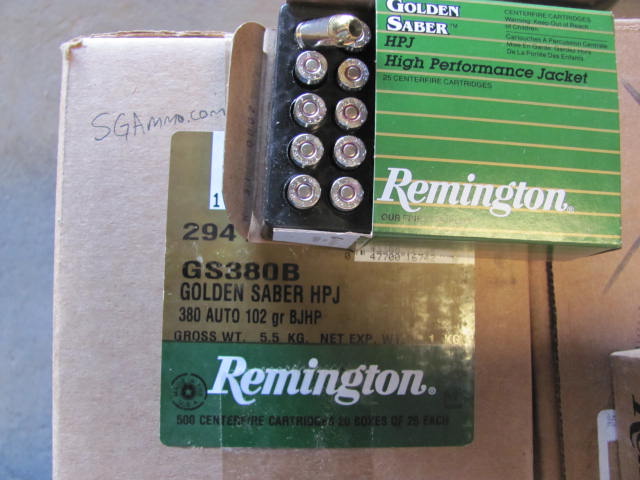 $219.00 + 16 shipping
25 rounds per box 380 Remington Golden Saber 102gr JHP Ammo. A great value for premium Hollow point 380 ammunition. Also available by the 25 round box for $11.95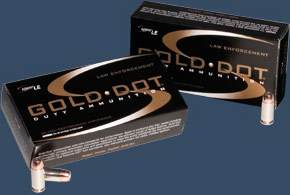 $28.95
50 rounds per box, 20 boxes per case. 380 Auto / ACP Speer Gold Dot 90gr Hollow Point Law Enforcement.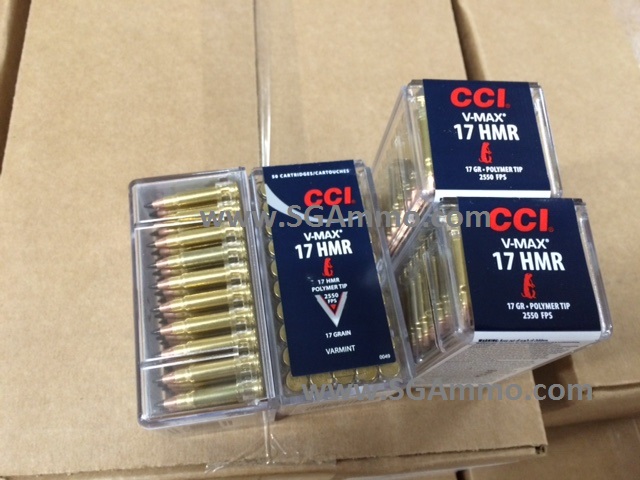 $124.90 + 12 shipping
Finally some 17 HMR available in good quantity that is affordable to shoot
$124.90 + 12 shipping (shipping cost is based on weight with a $12 minimum for up to 12 pounds of ammo. This stuff is light and shipping cost for 2 bricks together is also $12)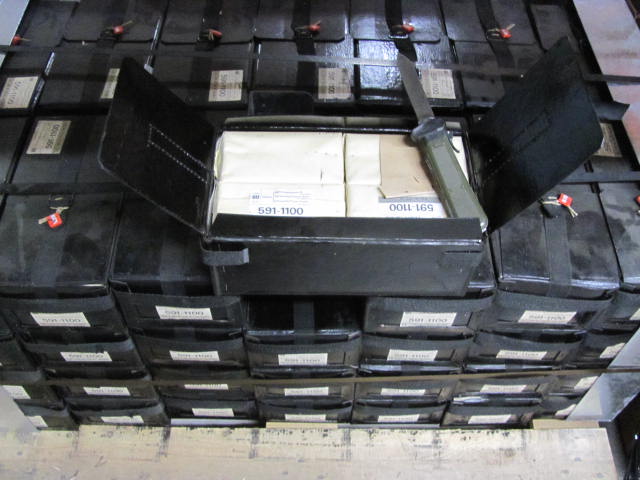 $239.92 + 16 shipping
Swiss Military 7.5x55 GP11 ball ammunition. This is some of the finest quality ammunition ever produced. Extremely accurate, reliable and non-corrosive. Mostly made in 1982, but possibility of other years of production. Comes 10 rounds per box, 6 boxes per brick 8 bricks per case. The Cartridge features a brass case and Berdan primers and Cupronickel jacketed bullets with lead core. Cupronickel is an alloy of copper that contains nickel and strengthening elements, such as iron and manganese and is magnetic so a magnet does stick to the bullet. Bullet weight per the importer is 174 grain.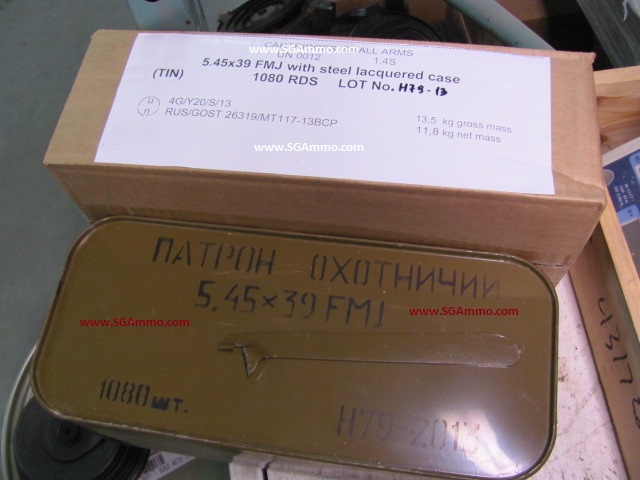 $259.50 + 16 shipping
1080 round Spam Can of 5.45x39 FMJ 60 Grain with Lacquered case and sealant New production Non-Corrosive ammo made by Barnaul Imported by Wolf Performance Ammunition for sale at SGAmmo.com, the best source online for 5.45 AK-74 Ammo. This is super nice new 2013 production 5.45x39 ammo with a lacquered steel case, sealed primer pocket and case mouth, lead core bullet with magnetic bi-metal jacket, all packed in 30 round paper bundles in sealed spam can just like the factory does for the military contracts. If you like the original mil-spec features with your AK ammo but do not want corrosive primers then this is the stuff for you. Your satisfaction with this product is backed by the importer with the Wolf 100% satisfaction guarantee. Supplies are limited. Each can comes packed in a cardboard box with a can opener tool.
$129.95 + 12 shipping
Very nice Mil-spec type 308 FMJ ammo. Non-magnetic copper jacket lead core FMJ bullet, reloadable boxer primed brass, in sealed 200 round packs. One of the coolest packaging options available in 308 Win caliber ammo. Prvi Patizan has been a leader in the mil-spec ammo market for quality and price, but supplies are always limited, do not miss out on the good stuff when it comes around.