Thank you for subscribing to the SGAmmo.com newsletter. If you have trouble viewing this email you can see the newsletter at this URL address: http://www.sgammo.com/newsletter
Below you will find a list of products that just recently came in at the SGAmmo warehouse that I thought were interesting and of good value. We are expecting some exciting new ammunition products and special purchase discounted deals in the coming weeks so stay subscribed for future SGAmmo newsletters. Please take a few minutes and look over the online catalog at www.SGAmmo.com - Sam Gabbert - SGAmmo Owner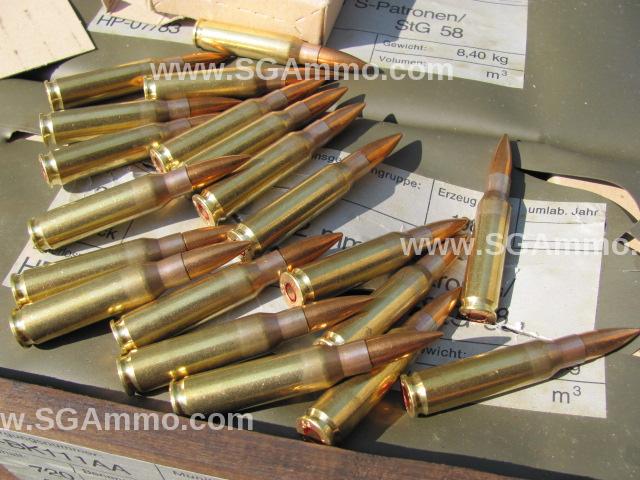 $369.90 + $25.00 Shipping
720 Round Wood Crate of 7.62x51 Nato Ammo. Austrian made by Hirtenberger in 1983. Featuring a 146 grain FMJ Boat tail projectile that is bi-metal magnetic jacket and lead core. The brass in these lots feature boxer primers. primer pockets and case mouths are sealed. Ammo is packed 20 rounds per box, 360 rounds per PVC battle pack, 2 packs per case. This ammo is caliber 7.62x51 NATO but does not have a NATO headstamp because it is made in Austria, a non-NATO member. Absolutely fabulous ammo that is very accurate and of good quality. Great surplus ammo for M1A, AR-10, HK91, Etc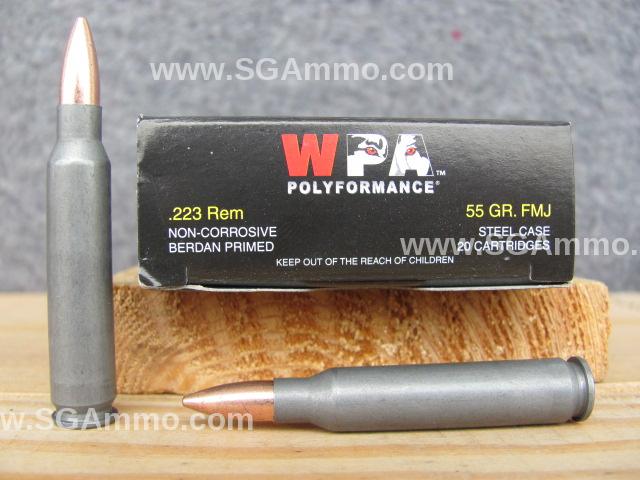 $219.90 + $16.00 Shipping
2x500 round cases, 1000 rounds total of 223 Rem 55 Grain FMJ Wolf WPA PolyFormance or Military Classic Steel Case Ammo made by Barnaul for sale at www.SGAmmo.com.This ammo my be in either box style, military classic or performance but the ammo is the same. Here we have for sale one of the best deals on steel case Russian made low cost 223 Rem ammunition in the USA. This ammo features a polymer coated steel case for smooth feeding and extraction in your AR-15 rifle. Using steel case ammo saves you money as it is much less expensive than brass case ammunition. This ammo is 100% non-corrosive, non-reloadable primer, and features a 55 grain lead core bullet with an alloy 'bi-metal' jacket that makes the projectile magnetic.
$169.75 + $14.00 Shipping
500 round case of 223 Rem 50 Grain Jacketed Hollow Point Federal American Eagle Ammo Sku Number AE223G For sale online at SGAmmo.com. This 223 is brass cased loaded with a hollow point bullet with a sealed primer. It makes an excellent varmint round at a reasonable price. It has muzzle velocity of 3,325 feet per second with 1,225 foot pounds of energy. This ammunition is a great round for use in AR-15 rifles for hunting or target shooting applications. Federal American Eagle ammunition is proudly made in the USA and priced competitively against import brands while offering the quality that you expect at an affordable price.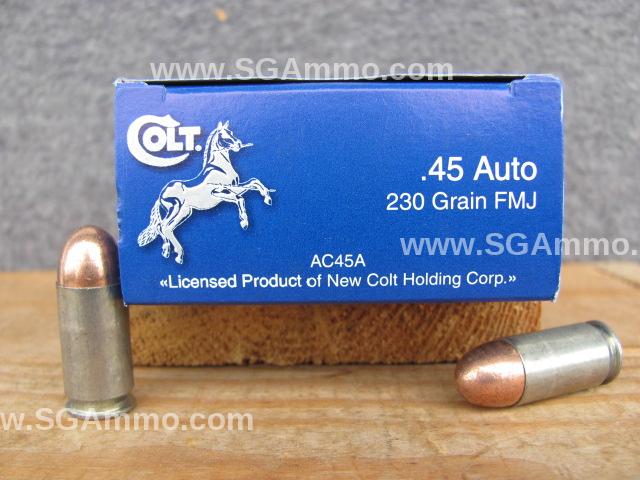 $147.50 + $15.00 Shipping
500 round case of 45 Auto 230 Grain FMJ Steel Case Colt Ammo by Barnaul sku # AC45A for sale online at SGAmmo.com
$309.80 + $25.00 Shipping ... I am having my doubts about being able to restock this item at this price, don't miss out on this bargain.

1000 round case of Sellier Bellot Brass case 45 Auto ammunition for sale. This ammo features a 230 grain FMJ bullet with range-safe copper jacket. These .45 Auto cartridges are brass case, reloadable and non-corrosive boxer primer. This is great target ammo and supplies are very limited. Sellier & Bellot ammunition has been made in the Czech Republic since 1825 and is one of the worlds most experienced ammo factories. If you are looking for high quality 45 ammo then this may be the ammunition for you. Top quality ammo for a competitive price.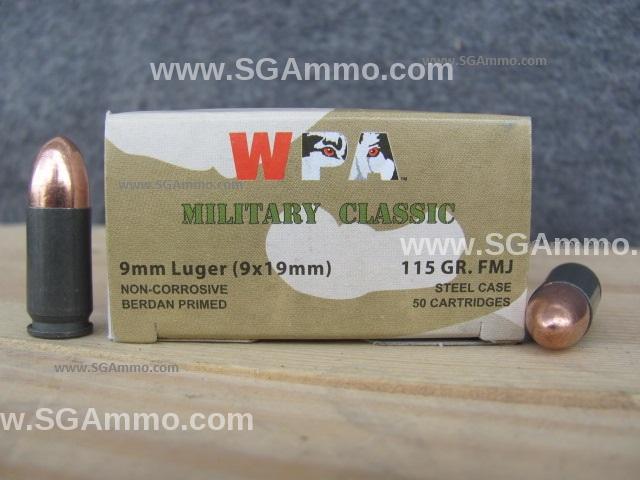 $179.80 + $16.00 Shipping
2 x 500 round cases - 9mm Luger 115 grain FMJ Steel case Wolf WPA Polyformance or Military Classic Ammo - Made in Russia by Barnaul - Packaging may be military classic or Polyformance, but the ammo inside is identical. WPA Wolf ammunition from Russia is made by Barnaul and considered by many pistol range shooters to be some of the better quality ammo from the Russia. WPA is one of the most popular types of steel case ammunition that we have sold in the past. The WPA 9mm Luger ammo we have for sale is a great value for people who do not like to reload spent cases as if features a polymer coated non-reloadable steel case. The bullet is 115 grain, lead core with a magnetic bi-metal jacket.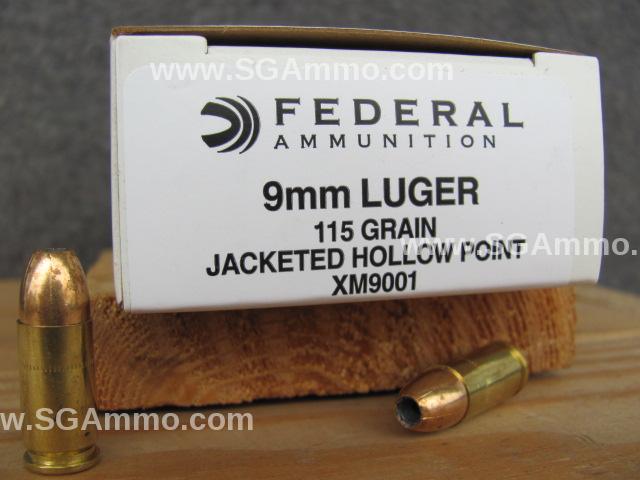 $309.80 + $16.00 Shipping
High Quality government contract version of 9BP. This is a reliable defense load that has stood the test of time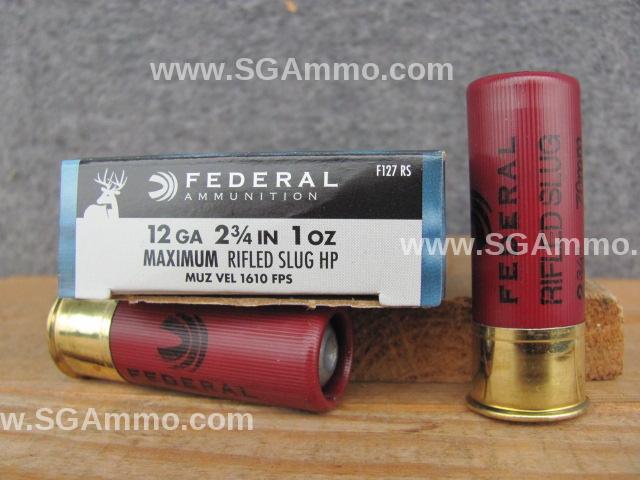 $139.50 + $16.00 Shipping
250 round case of 12 Gauge 2.75 Inch Federal F127RS High Velocity 1 Oz Hollow Point Rifled Slug Ammo for sale online at SGAmmo. This is Federal 1 ounce high power rifled slug for use in rifled or smooth bore barrels in either semi-auto or pump action shotguns. A great load for hunting or personal protection.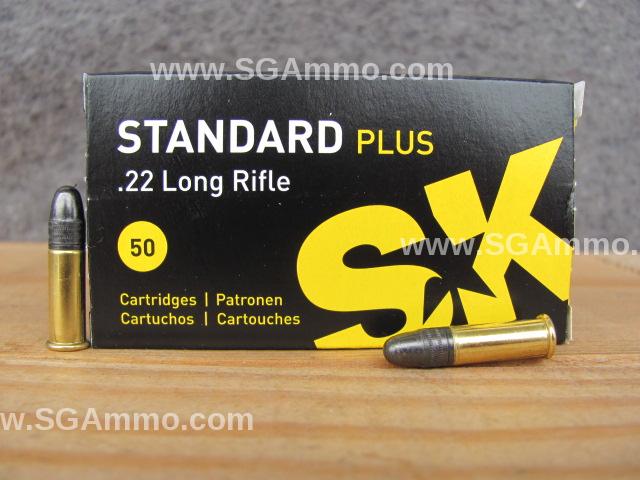 $59.50 or 10+ at $57.50 each ... This is one of the finest types of standard velocity ammo.

500 Round Brick of 22 LR SK Brand Premium Ammo for sale - Standard Plus - Made in Germany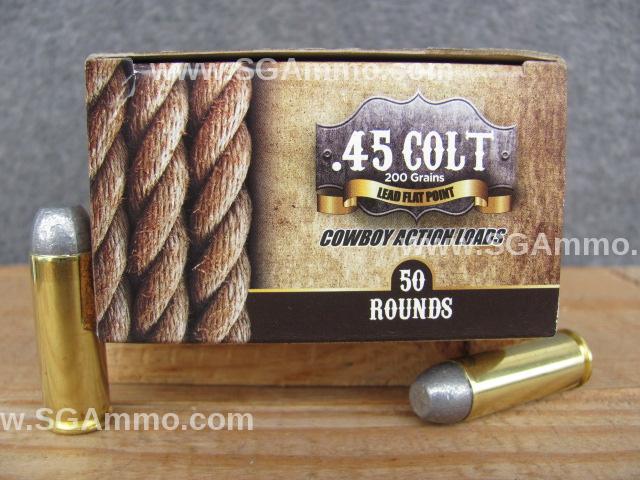 $229.50 + $15.00 Shipping
50 rounds per box, 10 boxes per case - 45 Long Colt 200 Grain Lead Bullet American Cowboy Ammo for sale. This 45 colt ammunition is one of the best for cowboy action shooting ammo in this caliber. American cowboy ammunition is brass case and made in the USA, loaded with noncorrosive Boxer primers making the brass easy to reload. We were able to buy a limited lot this ammunition at a deeply discounted price and now we are passing the savings on to our customers.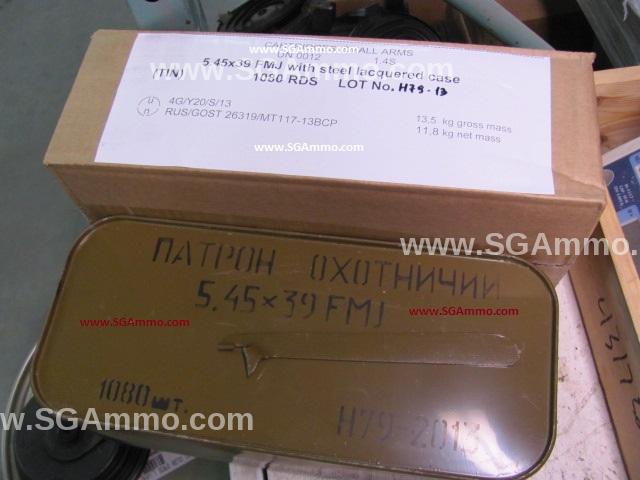 $259.50 + $16.00 Shipping ... This is the last pallet of 5.45x39 lacquered & sealed Ammo that Wolf had left to sell me.

1080 round Spam Can of 5.45x39 FMJ 60 Grain with Lacquered case and sealant New production Non-Corrosive ammo made by Barnaul Imported by Wolf Performance Ammunition for sale at SGAmmo.com. This is super nice new 2013 production 5.45x39 ammo with a lacquered steel case, sealed primer pocket and case mouth, lead core bullet with magnetic bi-metal jacket, all packed in 30 round paper bundles in sealed spam can just like the factory does for the military contracts. If you like the original mil-spec features with your AK ammo but do not want corrosive primers then this is the stuff for you. Your satisfaction with this product is backed by the importer with the Wolf 100% satisfaction guarantee. Supplies are limited. Each can comes packed in a cardboard box with a can opener tool.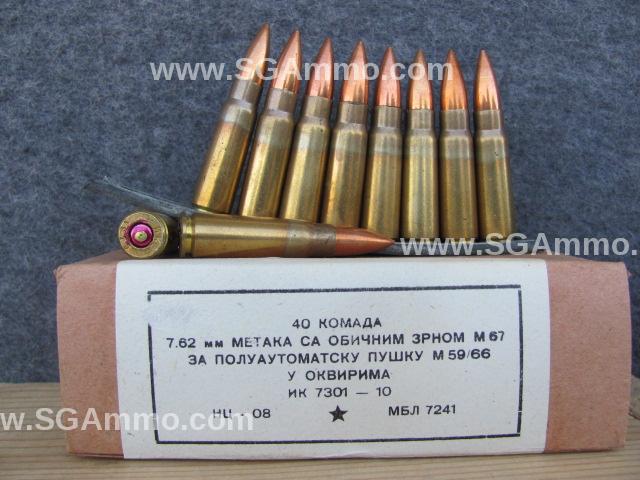 $299.50 + $28.00 Shipping
Running low on stock and expected imports to replenish have been temporarily delayed

1120 Round Crate 7.62x39 Non-magnetic Copper FMJ Brass Case Corrosive Yugoslavian Surplus Ammo on SKS Stripper Clips in the original wood crate for sale at SGAmmo.com. This ammo is mostly 1970s vintage Yugoslavian with a chance at some other odd years in the mix. Yugoslavian 762x39 is some of the finest surplus ammo in this caliber and features brass cases, Berdan corrosive primers and projectiles that are copper jacketed lead core and totally non-magnetic for range-safe shooting at most indoor and California ranges. If you were looking for the best surplus 7.62x39 Ammunition for your AK-47 then the Yugoslavian is one of the best choices because it is true mil-spec, sealed primer and projectile, brass case, and just a tad hotter of a load than the typical steel case options. Please note that while the vast majority of this ammo will come in the sealed tin within the crate there is a chance at receiving tins that have been opened within the crate. Packed 40 rounds of ammo per box on 10 round SKS stripper clips, 1120 rounds per crate.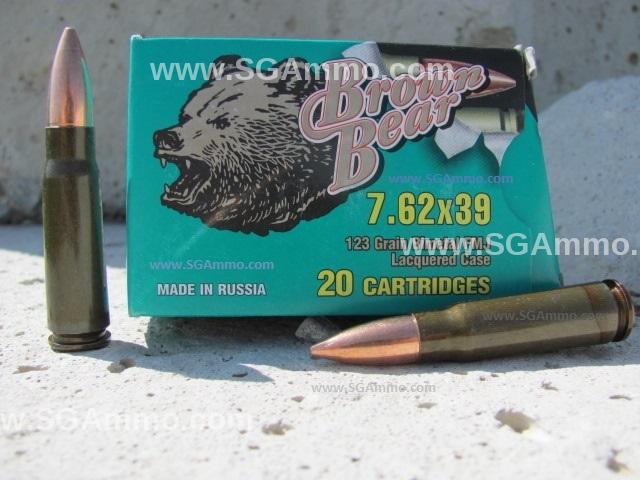 $129.95 + $14.00 Shipping
1000 rounds for $249.90 + $22 Shipping

500 round cases of Brown Bear 7.62x39 ammunition. This is high quality Russian made ammunition with a lacquered steel case and 123 grain FMJ bullet. This ammo is non-corrosive, non-reloadable.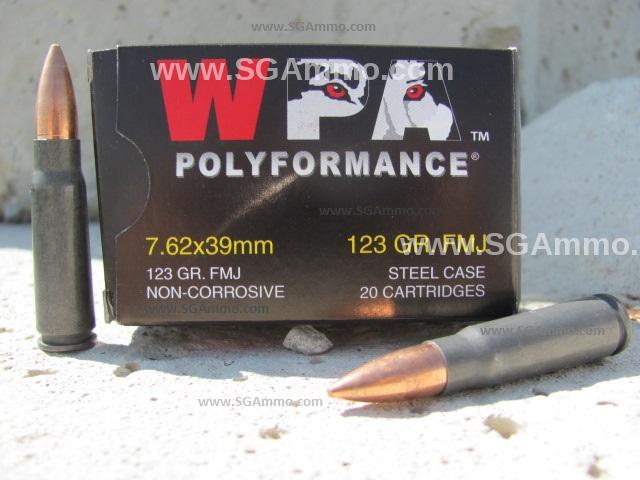 $229.50 + $22.00 Shipping
This ammo is high quality 7.62x39 ammunition with a steel case, non-corrosive primer and a magnetic FMJ bullet. This 762 AK ammo is ideal for target shooing and range use. This ammo is also a great choice for just stocking up on at a good price. The ammo is polymer coated steel case for smooth function and extraction, the bullet is bi-metal jacketed and lead core (magnetic projectile).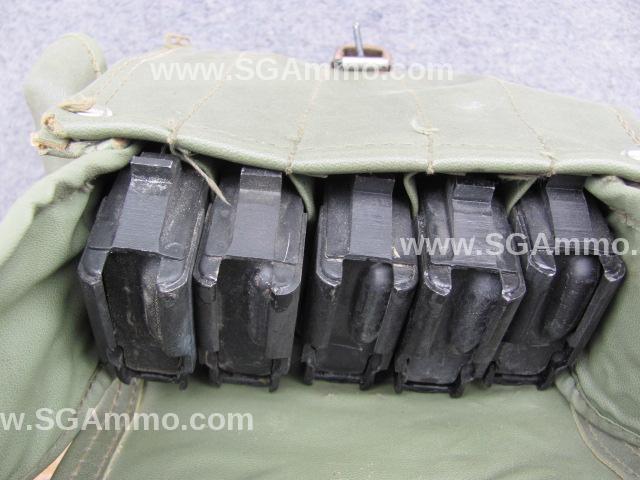 $79.95 + $12.00 Shipping
5 x 30 Round AK-47 Mags in a Green Vinyl Pouch. Mags are in Excellent to Like New Condition and are original Hungarian Military Surplus Steel Magazines. These are our finest quality AK47 Mil-spec mags. We also have one of the best selections of other quality AK magazines in stock. Pouches are also from Hungary but are used, some pouches are well used, condition will vary on the pouch, but all are functional.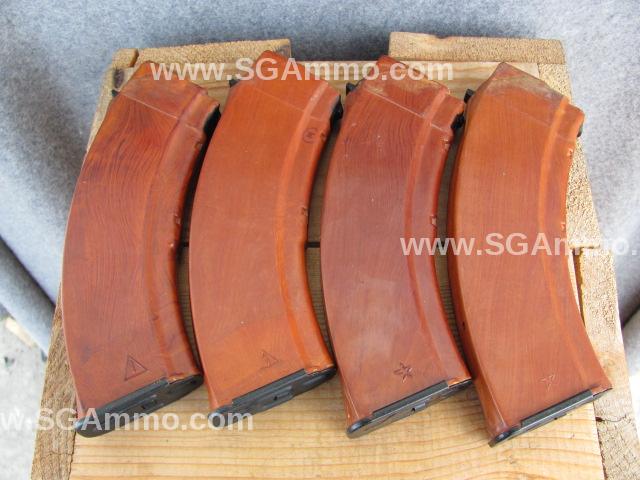 $32.95 or 10+ for $31.95 each... Running Low

This listing is for the sale of one magazine. Pictures of multiple units are shown to give insight to the different types within the lot. Real Russian Bakelite AK-47 7.62x39 caliber 30 round mags for sale. These are used 'Very Good' to 'Like New' with some imperfections like minor surface rust on the floor plate, follower and locking lugs from long term storage. The body is made of orange color Bakelite, which is a high strength polymer that does not dent or rust. Some mags may have scratches, scuffing and wear, but many are like new. Condition will vary mag to mag and sold 'as is' but from what I have seen these are extremely nice in condition and most are like new. Some mags may have ink stamps and others do not, some are proofed as Tula and some are Izhevsk, special selection is not available. Bakelite AK47 Mags are known for being rare and of excellent quality and functionality. They also weigh about 0.2 pounds less than regular steel AK-47 mags, saving you some total gear / gun weight when used. Many people consider Bakelite mags to be the highest quality mag ever produced for AK47 Rifles
$114.95 + $14.00 Shipping ... This surplus 7.62x54R ammo offers smooth extraction due to the brass case and a non-magnetic projectile. Why buy steel case Russian surplus when the price is up and Yugo surplus is available for similar pricing?

330 round box of 7.62x54R 182 Grain FMJ Yugo Surplus Ammo For Sale at SGAmmo.com with Brass Cases and Non-magnetic Bullet. This is Yugoslavian Surplus 7.62X54R M30 Ball ammunition made from the 1970s to 1990s by Prvi Partizan. From what I have seen. Yugoslavian M30 ball ammo is rarely seen in the US commercial market yet widely regarded as the best of the best when it comes to surplus 7.62x54R ammo, and features beautiful annealed brass case construction that looks like brand new commercial ammo. The primers are Berdan Corrosive and lacquer sealed to prevent moisture form penetrating the cartridge and increasing long term shelf life and serviceability of this ammo. The projectile of this fine 7.62x54R ammo is also highly desirable especially for California clients as the bullet is 100% non-magnetic and range safe for all those CA and indoor shooting ranges that do not allow magnetic projectiles.